Taxes

Excellent Financial Solutions is in strict compliance with all IRS and state tax laws. Our tax preparers are professional, honest and intelligent when preparing all types of tax returns. It is important that we educate our clients on important elements of the tax preparation process. This helps to ensure that all tax returns are completed accurately and that all expenses and deductions are accounted for. More importantly, accuracy and honesty reduces the likelihood of audits from our least favorite entity: The IRS. Read below for general information about income tax returns. If you have any questions, please feel free to give us a call. We are happy to answer any tax questions that you might have: (626) 486-2455.
Individual & Joint Income Tax Returns– There are various forms of income that are taxable. Below is a list of most income that is subject to tax:
Wages, salaries, bonuses and commissions
Tips
Unemployment compensation
Interest & dividends (some types are tax exempt)
Refund of state and local taxes (for some taxpayers who itemize)
Alimony or separate maintenance payments received
Income from self-employment
Gains from sale of property (capital gains)
Pensions and annuities (part or all might be exempt)
IRA distributions (part or all might be exempt)
Taxable portion of social security or railroad retirement benefits
Jury duty pay
Gambling winnings
Some scholarships or fellowships
Debt cancellation
Do I have to file? This is one of the most commonly asked questions, and the answer is based on several factors: your income, age and filing status. Below you will see tables outlining taxpayer filing requirements. Even if you are not required to file, it may be beneficial to file if you are due a refund.
Reducing Taxable Income– Your taxable income can be reduced in several ways.
Exemptions– Exemptions reduce your taxable income. You can take an exemption for yourself, your spouse and each dependent. For the year 2013, you can reduce your income by $3,900 per exemption.
Dependents– There are strict rules defining who can or cannot be claimed as a dependent. If you want to know if someone is a dependent, feel free to visit the following IRS link: Who Can I Claim as a Dependent. If you still have questions, give us a call!
Adjustment Deductions– Adjustments are certain expenses which directly reduce your total income. You do not need to itemize your deductions in order to claim these expenses. These expenses are claimed directly on form 1040, page one. Below is a list of the most common adjustments to income:
Individual Retirement Arrangements (IRAs)
Alimony paid
Moving expenses
Student loan interest deduction
Tuition and fees deduction
Educator expense deductions
Health savings deductions
Self-employment tax deduction
Penalty on early withdrawal of savings
Standard Deduction– This is a specific amount that reduces your income that is taxed, and the amount is based on your filing status, your age, whether or not you are blind, and whether or not you are a dependent. Your standard deduction eliminates the need to itemize deductions, but you will want to itemize your deductions if such deductions are higher than your standard deduction.  Below is a table outlining your standard deduction amount depending on your particular category.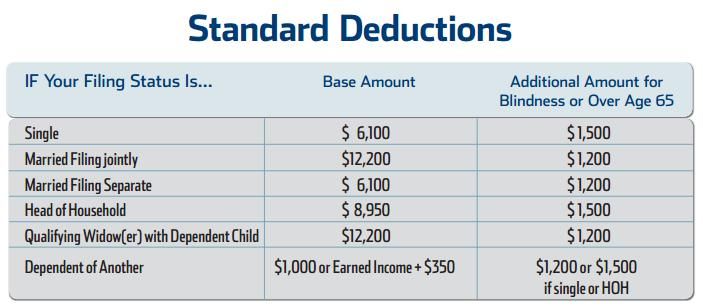 Itemized Deductions- You will want to itemize your deductions if the total amount of your itemized deductions is higher than your standard deduction. This will reduce your taxable income further, thus lowering your tax liability and potentially leading to a higher refund. The most common reason for itemizing is for home ownership because you can deduct mortgage interest and real estate taxes. Be sure to have accurate records of all itemized deductions, as this is important for being in compliance with IRS regulations. Below is a list of categories for potential itemized deductions:
Medical & Dental Expenses
Taxes Paid
Interest Paid
Gifts to Charity
Casualty and Theft Losses
Employee Business Expenses
Miscellaneous Deductions
Reducing Your Tax/Raising Your Refund– Once you have reduced your income via exemptions and deductions, you arrive at your taxable income. This allows you or your tax preparer to determine your actual tax liability for the year. Luckily, there are ways to reduce your tax liability. Credits reduce your, tax dollar for dollar, and there are two types of credits:
Non-Refundable Credits– Non-refundable credits can reduce your taxes down to zero, but you will not receive a refund for the additional amount of the credit. The most common credits include:
Credit for Dependent Care Expenses
Education Credit
Retirement Savings Contributions Credit
Child Tax Credit
Refundable Credits– Refundable credits are treated like tax payments, and they are added to your federal taxes withheld throughout the year (if any). If your tax liability is reduced to zero, then the excess is received as a refund. The most common refundable credits include:
Earned Income Credit
Additional Child Tax Credit
American Opportunity Credit
Note: The IRS closely examines Earned Income Credit reporting because this, too, is an area where fraud is prevalent. Tax preparers are provided with strict criteria when it comes to determining your potential EIC.  Below is a table describing Earned Income Credit in a nutshell.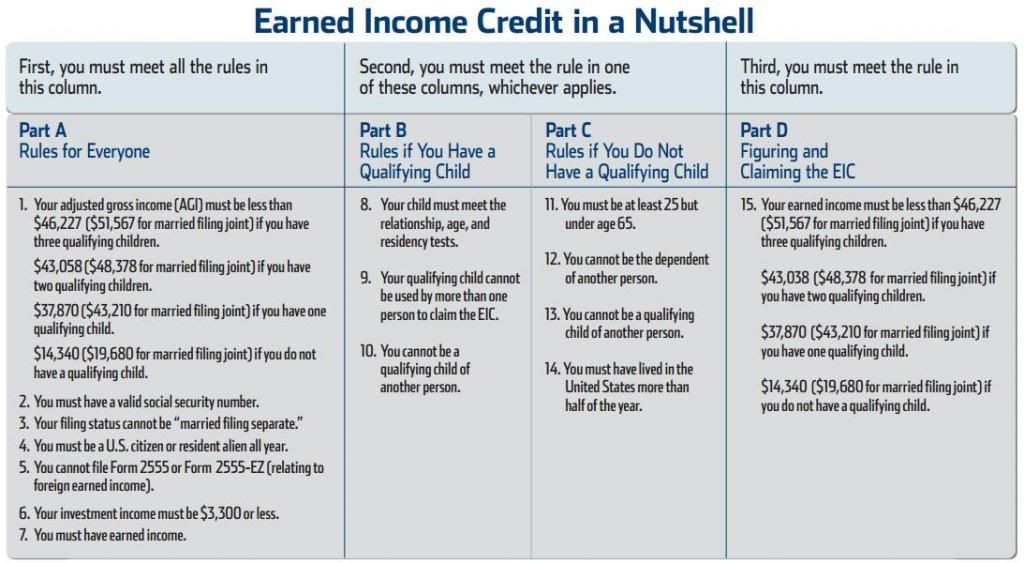 Federal Taxes Withheld/Paid– If you paid federal income taxes out of your paycheck throughout the year, or if you made estimated tax payments to the IRS, chances are you may have paid too much! Once you or your tax preparer has determined your tax liability for the year, if it turns out that you have paid too much taxes in the previous year, then the excess over-payment will be paid back to you in the form of a refund.
Business Tax Returns- There are several types of business returns that our experts can prepare for your business. The key to an accurate business return is accurate and honest accounting. If you have any detailed questions about these types of returns, or if you would like to get started on your business return, give us a call: (626) 486-2455.
Schedule C- Most small businesses and sole proprietors will include their business income and expenses on a schedule C form that is attached to their individual tax return.  The IRS carefully examines these types of returns because this is where a large percentage of fraud is encountered. Therefore, it is important to work with a company that you can trust when filing a tax return with a schedule C attached. Accurate and abundant recordkeeping is essential for a properly filed tax return.
LLC, C-Corporation & S-Corporation Tax Returns– Our tax preparers are knowledgeable about different business structures and the forms and information necessary to prepare the more complex types of business returns. The full scope of these types of returns is beyond the extent to which this website can describe, so if you have any questions pertaining to these types of business returns, feel free to contact one of our experts at (626) 486-2455.
Business Deductions– Regardless of your business structure, you will want to deduct all possible expenses that are relevant to your specific business. While there are numerous categories of expenses that can be deducted, here is a list of the most common types of deductions that we come across:
Car Expenses
Advertising
Wages and Contractors Paid
Rent
Interest Paid
Insurance
Utilities
Taxes Paid
Legal and Professional Fees
Office Expenses
Repairs and Maintenance
Travel, Meal and Entertainment
Expenses for the Business Use of Your Home
State Returns– We are licensed to prepare taxes for all 50 states. That's right, if you lived in another state last year, not a problem. We can still file your tax return. Want to refer a friend or family member from another state? Send them our way!
Amended Tax Returns– If you have a prior tax return that needs to be corrected, then feel free to give us a call. Whether you need to correct your filing status, number of dependents, total income, tax deductions or tax credits, we can help. Contact us to get the amendment process started: (626) 486-2455.
E-Filing & Direct Deposit– We are an authorized E-filing company, and we can E-file your federal and state tax returns. In addition to E-filing, we can also have your refund deposited to your bank account, and you can also pay for our fees out of your refund! In order to receive your tax refund within 7 to 10 business days (the fastest timeframe possible), you will want to utilize our E-file service along with direct deposit.
What to Provide Your Tax Preparer:
Copy of last year's federal and state return
W-2′s
Interest & Dividend Income
Stock Sales or Broker Statements
Self-Employment Income & Expenses
Sale of Personal Residence & Re-Finance Papers (HUD-1′s)
Rental Income & Expenses
Gambling & Lottery Winnings
State Income Tax Refund
Pension or Retirement Income
Estimated Taxes Paid
Social Security Year-End Statement
IRA or 401(k) Distributions & Contributions
Unemployment Compensation
Medical Expenses
Real Estate Taxes
Mortgage Interest
Charitable Contributions
Employee Business Expenses
Gambling Losses
Employment-Related Moving Expenses
Childcare Expenses
Higher Education Expenses
What We Won't Do– We won't break the law, and we will follow due diligence protocol to ensure that our tax preparers and clients are being honest about every tax scenario. Below is a list of just a few things that we will not do when filing your tax return.
First and foremost, we will not do anything illegal or immoral.
We will not claim a dependent that is not truly your dependent.
We will not inflate, reduce or modify any amounts illegally.
We will not prepare a tax return without sufficient documentation and evidence of claims made.
We will not guarantee you a higher refund compared to other tax companies. We will, however, get you every credit and deduction that is owed to you.
Simple Tax Returns Start At $50
If you would like to receive more information about our Tax Preparation Service, please click the link below and fill out the form. We will contact you shortly.  

Sign Up